The Many Faces of Badger Grads
The Many Faces of Badger Grads
At this year's commencement ceremony for bachelor's and master's candidates, held outdoors at Camp Randall Stadium on Saturday, May 17, each of the more than 5,400 soon-to-be grads in attendance has a story: a Badger journey that's all their own. Here are just a few of the many inspiring and interesting stories of UW-Madison's Class of 2014.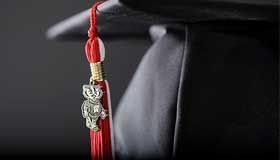 Related News and Stories
What's the story behind the 1915 bleacher collapse?